Save Your Life with the Phenomenal Lemon (& Lime!)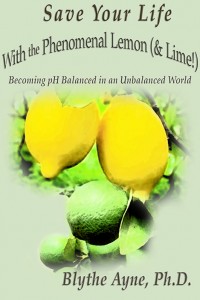 If you've never particularly thought about lemons and limes, you may be astounded by some of what you'll read in Save Your Life with the Phenomenal Lemon (& Lime!).
Fresh-squeezed lemon and lime juice has antibacterial, antiseptic, anti-inflammatory, antiviral, anti-fungal and antihistamine properties. It fights infections and helps in the production of white blood cells and antibodies in the blood, which attack invading microorganisms. The antioxidant property of lemons and limes destroys roving free radicals, preventing cardiovascular disease, stroke, cancers, and a myriad other health issues.
Daily consumption of lemons and limes has been shown to contribute to significant weight loss, kill cancer cells, lower blood pressure, and lower the glycemic index of meals up to thirty percent, when taken as suggested. These are but a few of the myriad ways in which lemons and limes augment your health and stave off, or help you recover from, disease and illness.
Read Save Your Life with the Phenomenal Lemon (& Lime!) to learn how fresh lemon and lime juice can change your life. The book includes remarkable, first-hand testimonials along with numerous resources and references.
Clicking on the cover or title will take you to the ebook download, where you will see Save Your Life with the Phenomenal Lemon (& Lime!) also available in paperback.
Save Your Life with the Power of pH Balance
Easy-to-read, Save Your Life With The Power Of pH Balance is an information-packed book, giving you great guidelines to live a pH balanced life, including a detailed chart in the back of the book, organized from alkaline to acidic – from best foods to least preferred. This book takes the mystery out of pH balance, and puts its power in your hands!
Save Your Life With The Power Of pH Balance is important information for everyone. It makes a thoughtful gift for people with health issues, people who are concerned with the health of earth and have a "green living" focus, and parents attentive to their children's health.
45 Ways to Excellent Life
Forty-five ways in 45 days to a more enriched experience of life. 45 Ways To Excellent Life
encourages you to explore your inner terrain and also the world about you in simple, but insightful, daily "action mediations."
It's a great book for anyone who wants to begin meditation but doesn't know where to start, as well as the person who has meditated for years. Beautifully illustrated with black and white photographs.
Love is the Answer
Love Is The Answer is the perfect gift for anyone you love – friend, sibling, parent, child, spouse, significant other… anyone. Filled with touching reflections on love and spiced with some of the world's greatest quotes about the power and the wonder of love.
Beautifully illustrated with black and white images.
Excerpts from Love Is The Answer:
"The only thing that we can put in our spiritual pocket and take with us into eternity is the Love we felt, experienced, and created while going through this life of impermanence."
"Whenever we find ourselves woefully in the past or anxiously in the future, come back to the healing balm of This Moment, brought to you by the power and energy,
centering and calmness, of Love."
"Without becoming intimately acquainted with the pilot light of Love burning at your center, the furnace of full engagement in life cannot be ignited."
"Love makes all things sweet."
Horn Of Plenty – The Cornucopia of Your Life
What do you want to have pour out of your horn of plenty? It's all waiting to come into your life. But first the blocks have to be removed. HORN OF PLENTY – The Cornucopia of Your Life  shows you how these blocks are built, and empowers you with ways to remove them.
People commonly think of the effects in their lives as causes, which blocks reaching goals and having one's heart's desires. HORN OF PLENTY shows you how to correct this confusion. You will soon stand before your own horn of plenty, ready to receive all that is waiting to come to you.
Inspirational reading to bring about a powerful shift in your life toward happiness, fulfillment, prosperity and joy. The "Points for Contemplation and Action" following each chapter guide you in putting this important information into practice.
New Books
Watch this space for information about new nonfiction books by Blythe Ayne
All of the books on this page are available at Amazon.